mdby……SARA FLYNN
Today, Sara Flynn, an irish ceramist, who does a work super chic, will tell us about her work and how she got started.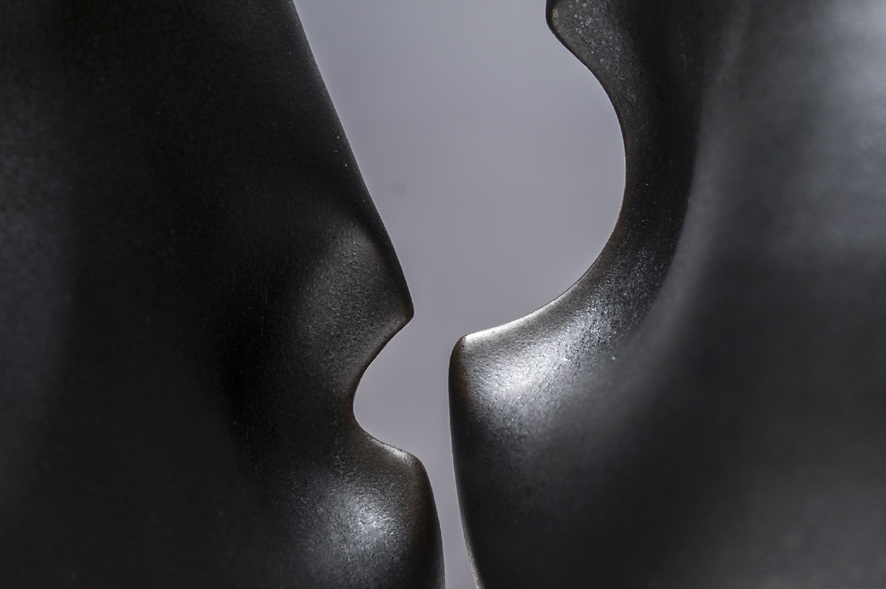 Sara, you give so much peace through your vessels!! It is amazing, how a curve, a surface can be so relaxing when you look at them. Did you find in ceramics a way to express yourself?
It is such an instinctive thing for me, I must admit I rarely really analyze it. Most of the forms I create are born from a number of key factors…a love of porcelain, a desire to understand form and an attempt to create an harness volume. Also, I have a fascination with the theme of the Vessel. Combine all of these elements together and the result is 'me & my pots'…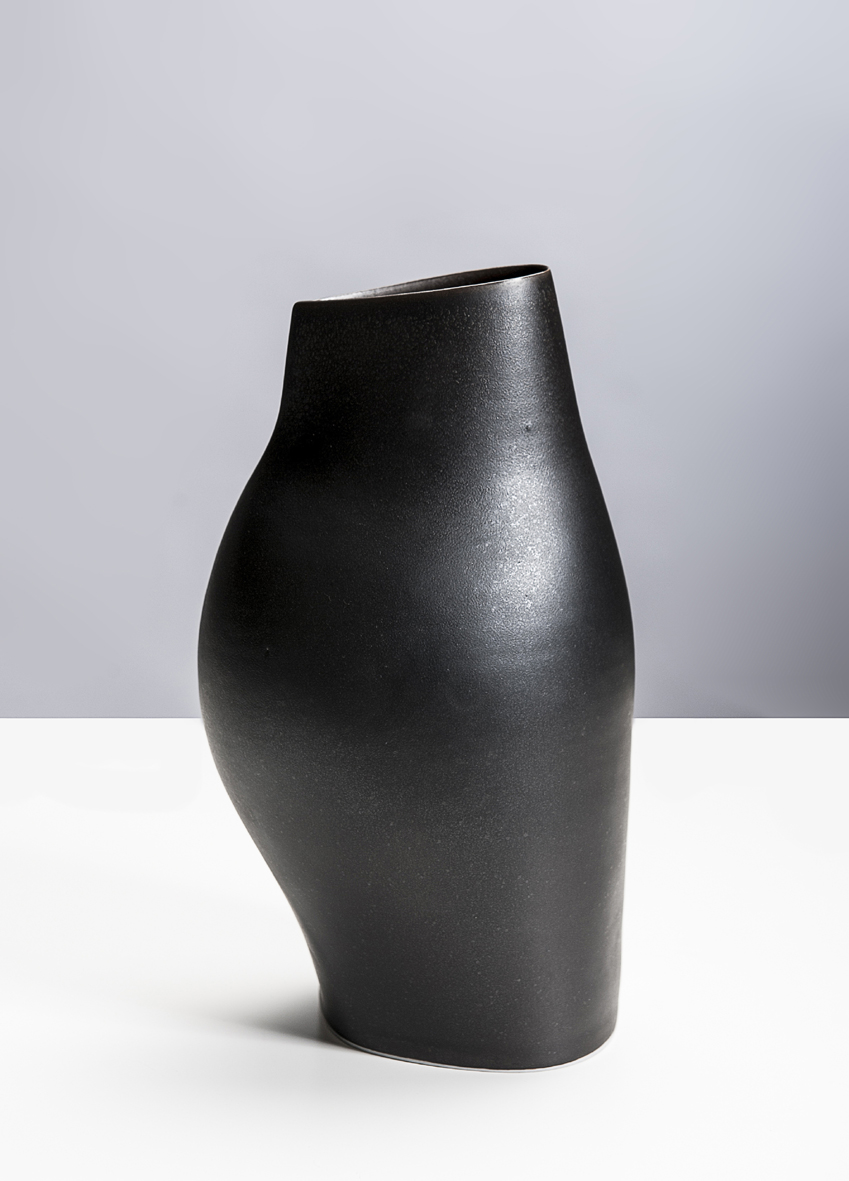 What are your basics in life and work?
Hard work, a wonderful studio with all things in the right place, a small handful of incredible people, good food & wine…and a great night's sleep.
You talk about solitude, and a quiet studio as the most important issue, where do you get the strength for such an incredible discipline working alone?
It doesn't feel like calling on a strength to go to my studio and produce work – in fact, I think I would find being denied access to my practice an unbearable challenge. The simple fact is that I adore the practice of Making ; interacting with the clay, having more understanding and command of the material. By investing and allowing so much time in practice to occur, some kind of magic happens. 'Eureka' moments I suppose…when the interaction with the process reveals new forms and possibilities that design on paper could not ever suggest.
The longer I work this way, the better my skills become and this ongoing relationship with porcelain is incredibly exciting. The possibilities are endless, and this is what drives the enthusiasm and discipline.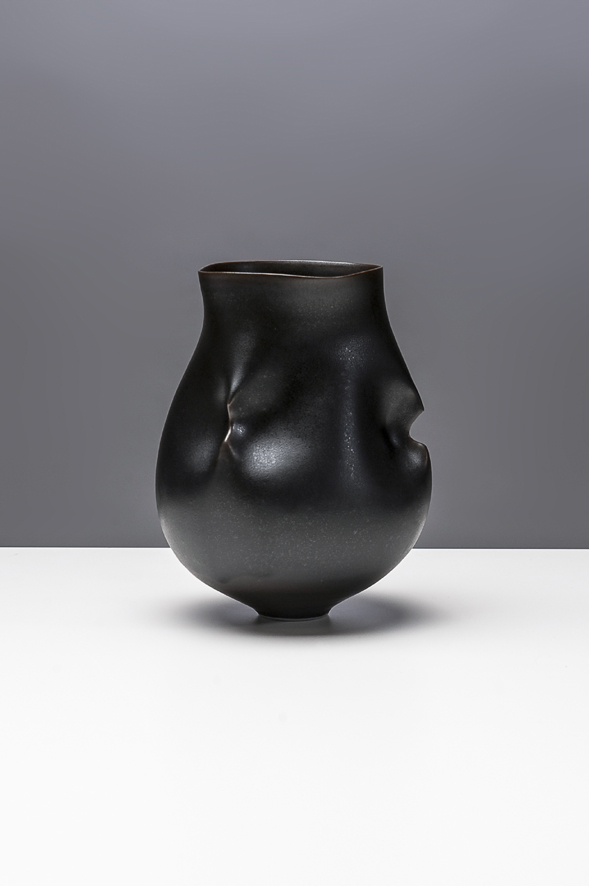 What clay gives you that perhaps you have not found in other materials?
Where to start to try to answer this! Clay is the most wonderful material. It can be enjoyed & exploited at all of the different stages of its' drying process. At some stages it is gloopy and wet, at others it can be handled differently – cut, pushed joined, cut again, reassembled. After all of this it can then achieve a permanent chemical change through the application of high temperatures, to become a hard, impervious material with an incredible array of potential colours and textures. It sounds like a magic substance when it is described like this – and it is.
Was it hard when you begun it?
Yes. Very. And often still is…but my skill increases with every vessel I make – and I hope it continues to increase throughout my career. One can always improve.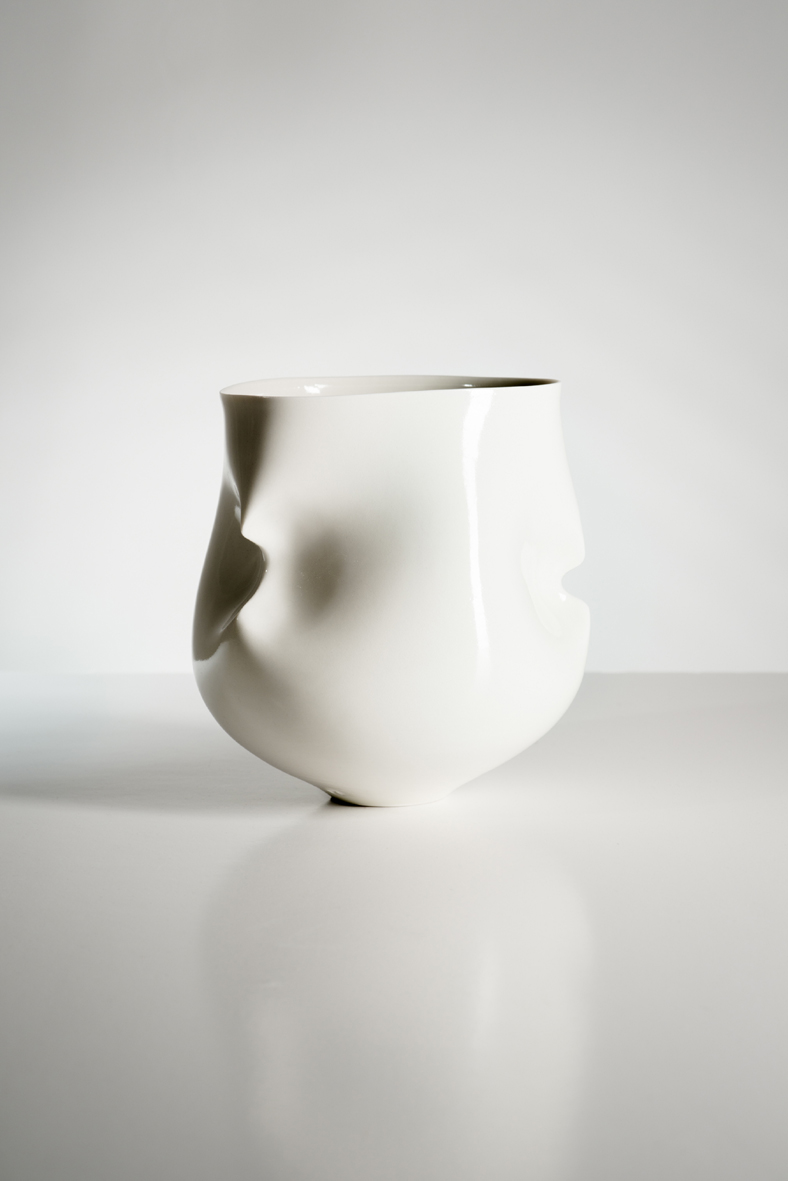 Have you ever discouraged?
I often have days where I am very frustrated if I am not achieving what I had hoped. The porcelain has a tendency to crack while it is going through the drying process, & I am hugely disappointed when pieces I have spent a long time on reveal cracks and have to go in the bin. But that dissatisfaction then makes the pieces which are successful all the more wonderful and joyous. Thankfully, most problems reveal themselves before the pieces have been fired, so at least the material can still be recycled.
Right now, colors have disappear from your work, before you used more colors, but right now it seems you have been through a depuration process, which is the reason for that?
I think that over my career as the vessels became more personal and distorted and abstracted, the forms needed to be finished with surfaces and colors which did not fight or distract with them in any way. On close inspection the Black and Bronze glazes actually have very complex surfaces, but the overall impression if of a united finish with the form and contours. That is really important. The celadon (green) glazes are classic Chinese recipes; a long tradition precedes these pieces – the marriage of this finish with the Body (Porcelain). I am currently testing some new glazes and colours, but they will only be used if they reliable enough to be repeated, and are absolutely right for the form. More testing to do for now…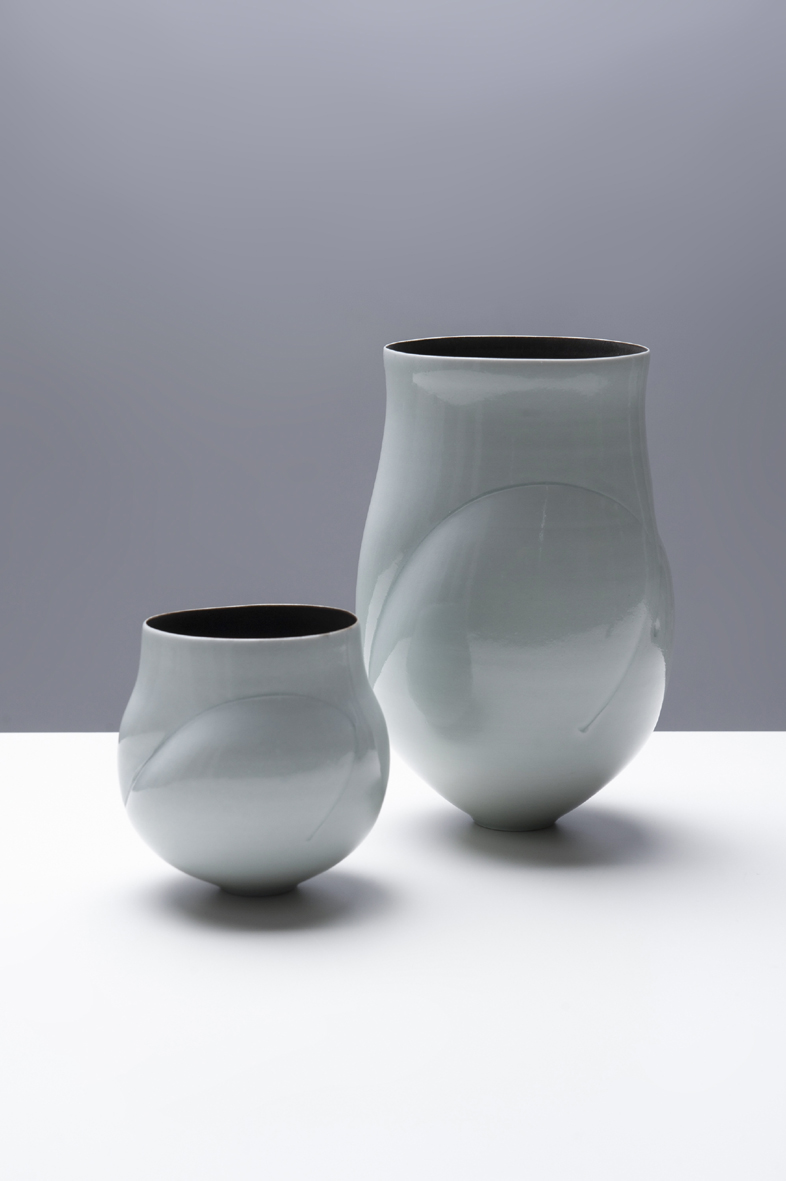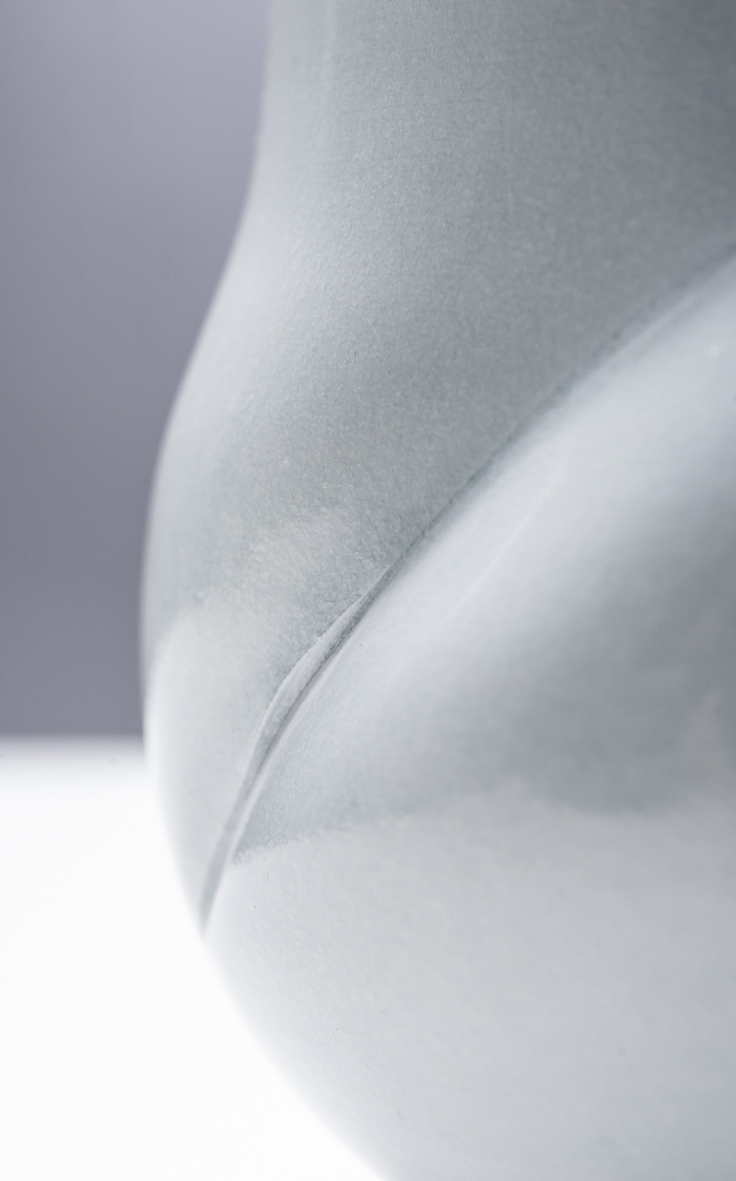 For your textured bowl, how do you get that interior surface?
That amazing texture is achieved through the introduction of a ceramic material to the glaze recipe…Silicon Carbide. I plan to experiment further with it – the possibilities for interesting colour-responses are vast. Thickness and application-technique will also offer a variety of finishes. To be continued…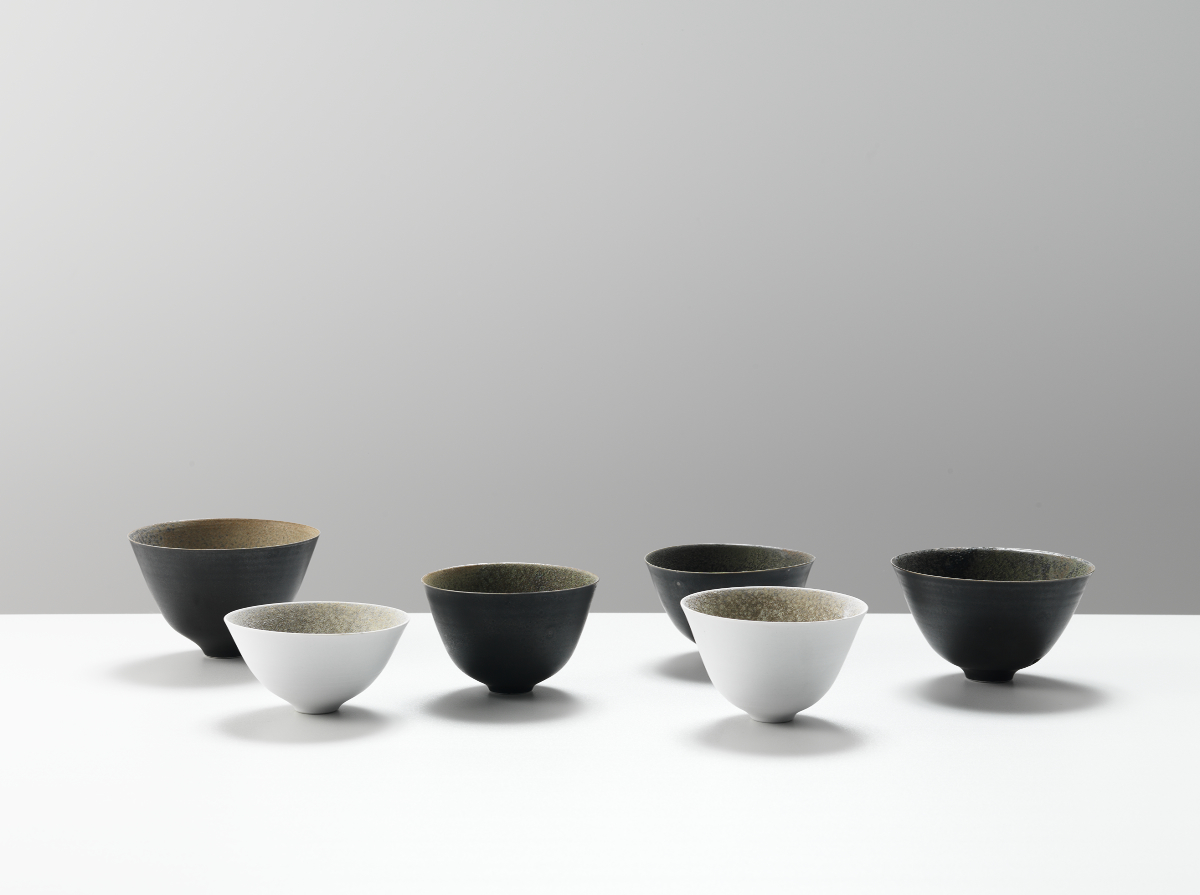 Each object that you work on is unique; do you mark them in some way?
All of the pieces are stamped, using a hand-carved plaster stamp. Some have recently been signed underneath – but very few. I think I favour the stamp
Do you fabricate by commission?
Rarely. I tend to make the best pieces I possibly can and when the vessels are resolved and finished I then present the work to clients and collectors.
However, I have worked on a few collaborations where I had freedom within a brief for specific spaces to make a cluster of vessels to sit together permanently. That way of working has proved to be extremely successful and satisfying both for me as an artist, and crucially for the client who will live with the installation
A recent project nearing completion in NYC with Furniture-Maker Joseph Walsh,  has been just such a collaboration, and the Vanilla White glaze was developed for that project. The commission was pleasure to work on from start to finish
For whom you fabricate these pieces? Do you ever imagine the final client?
Not really. Again, the drive behind the making-process is to consistently develop the work, always playing with changes of form, hopefully resulting in constant development of beauty, form, scale…to make the best work possible. Once that is achieved I can present it to those who may be interested. Having said that, much of my work has been collected by those with a passion for 20thC ceramics…but I do not think I have a 'type' of client. Many clients are new to looking at ceramics…and simply come to acquire pieces they instinctively respond to.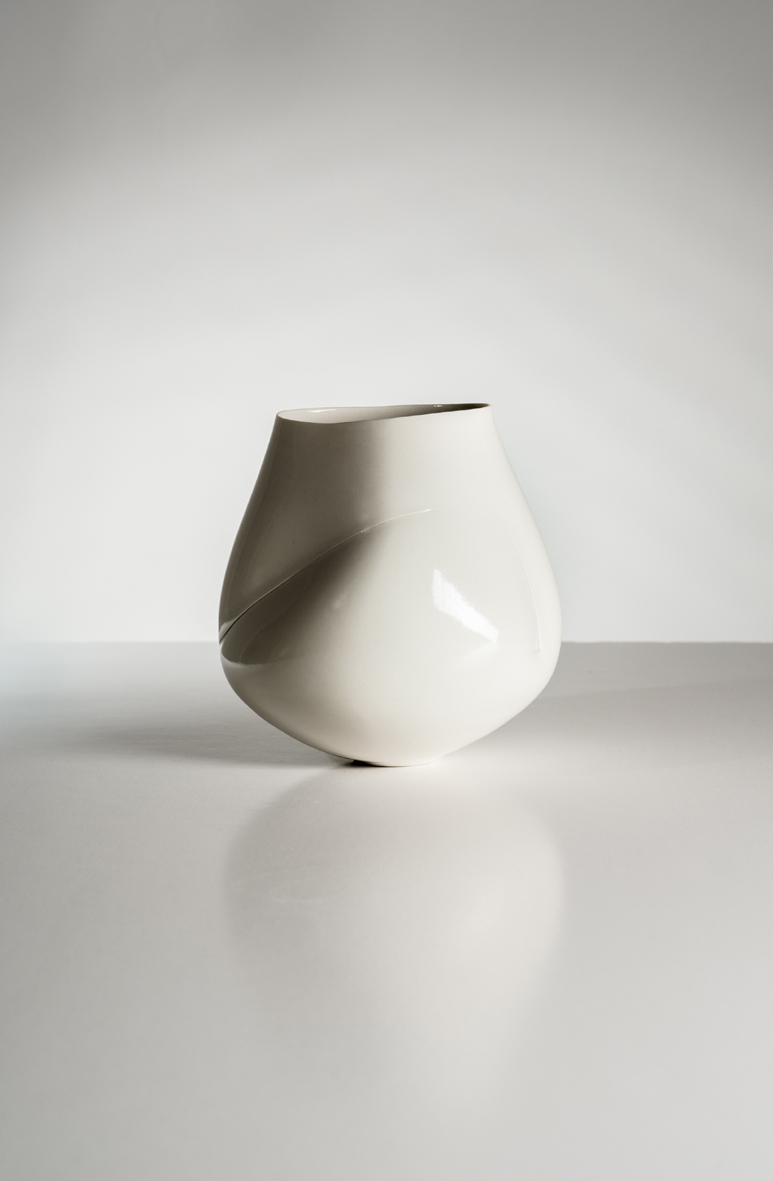 Which is your process, from a ceramic design until it is ready to be sold?
Idea, Design, Throw Form, Alter and Manipulate, Allow to dry (bone dry), Bisc Fire (1000 degrees C), Apply glaze, Glaze-Fire (1280 degrees C), Polish, Photograph, Post.
This whole process takes approximately 2 months.
Projects are generally planned and scheduled 6 months in advance. Right now, my focus is on my next Solo Exhibition at Erskine Hall & Coe in London, which will be held in November2014.
Talking about business, do you spend time in your work to publications or other media to make yourself know and increase sales, or you have someone to help you?
A combination of self-generated PR, and support over the years from the Crafts Council of Ireland (La Revue de la Ceramique et du Verre '07),  Ceramics Ireland (Ceramics Art & perception '09)  and Erskine Hall & Coe (Ceramic Review '12).
I took part in 'Ceramic Art London' for 3 years consecutively (2010, '11, '12) which was also very important in terms of becoming known in the U.K., and 'Collect' in the Galeria Saatchi in London (represented by the National Craft Gallery de Irlanda), where my work was seen by Matthew Hall (Erskine Hall & Coe), prompting us to work together.
Which ones have been the best and the worst moments of your professional life?
Best: my first solo exhibition in 2012
Worst: Not so much the 'worst' as I learned SO much and worked with fantastic people….but my time in London working in Retail '94 – '97 was very difficult. It gave me great business experience and understanding and while working there I undertook a management course which proved to be invaluable in terms of business-training. But I felt like a 'square peg in a round hole'…and missed working with Clay VERY much.
What is beauty for you?
A long beach/strand in Ireland (North, South, East or West)… windy day…warm clothes….big walk. All combined. 'Beautiful' doesn't come close – 'Stunning' does.
What is the most difficult thing in your work? and the one you like more?
Most difficult. ……Tuning into the material (porcelain) in an attempt to persuade it to do things it doesn't want to do.
Thing I like best… Tuning into the material (porcelain) in an attempt to persuade it to do things it doesn't want to do.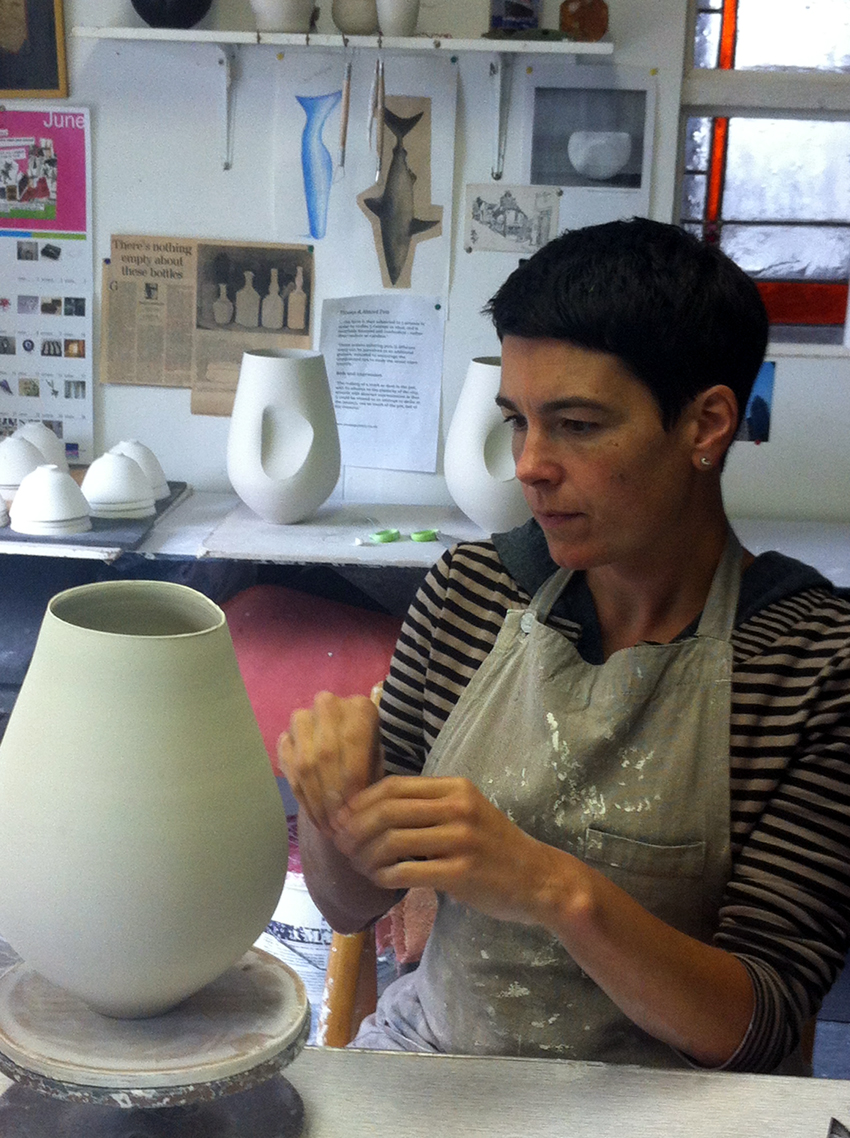 Which one has been your biggest success?
Probably holding my first solo exhibition in 2012. Not simply for the key significance of the work itself – but also the fact that it was held in the space that had formerly been "Galerie Besson" – with the ghosts of such influential Makers …Coper, Rie, Constantinidis…an overwhelming feeling and opportunity.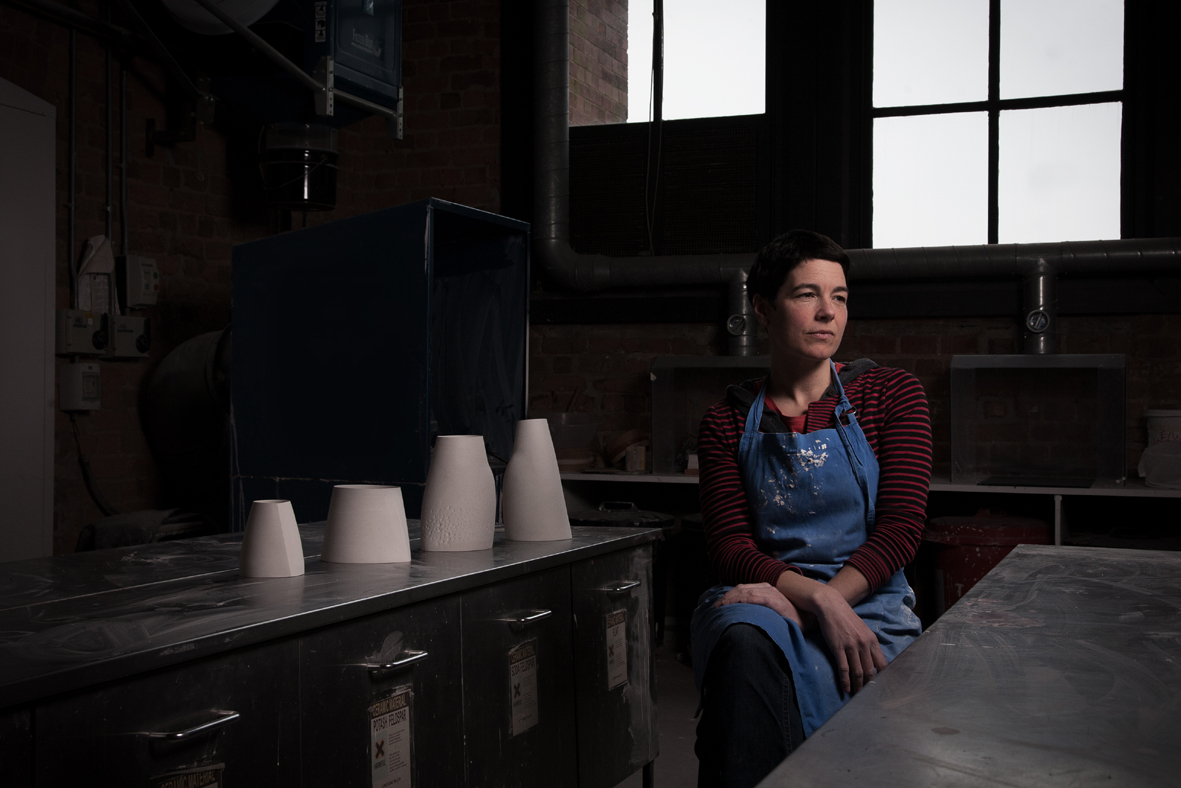 Portrait by Alexander Petricca.
Any advice?
First, focus on finding your passion and what you are good at. Then commit to long hours to gain skill and allow time and space for the unexpected.
If it is genuine it won't feel like work, it will be exciting.
I am a firm believer that if the activity is a pleasure the practitioner is likely to excel.