mdby……LA MOUCHETTE
Today we talk about Olga's work, La Mouchette, she has developed her own tecnique in methacrylate and she makes some very interesting jewellery. She has just opened a shop called "MISERIA" in Madrid, with Pablo Galve and Belén Jimenez. Pablo is a jeweller who designs his own brand "Porca Miseria ", Belén Jimenez, fashion designer, has her own brand "Norma Bates" and the brand the 3 of them develop together is called "Calamidad", so they are a very attractive group. We went to visit Olga and Belén in Madrid and we talked with them about their work….here you have the first part of the interview….!!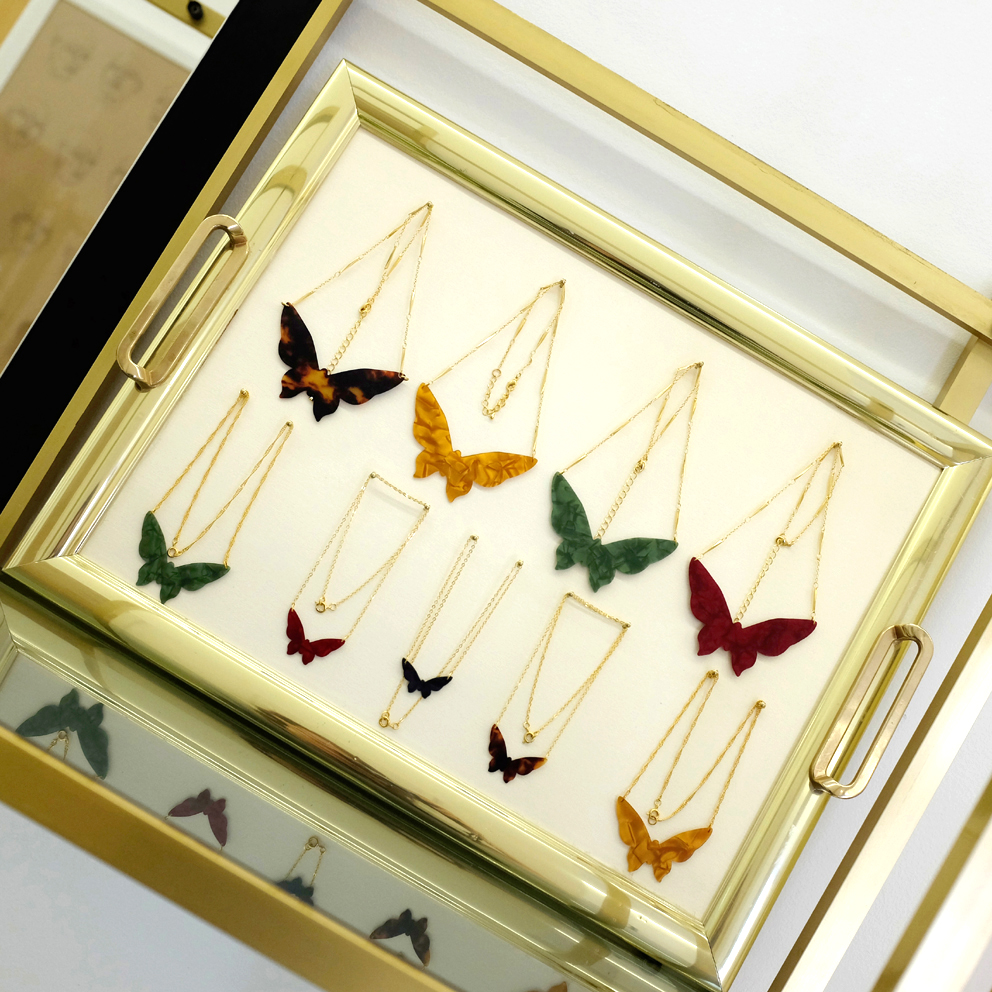 Olga, How did you begin with jewellery?
Just by chance. Actually, I wasn't thinking about getting into this world. Some years ago, I was with my boyfriend, who is a jeweller, I was looking at some methacrylate designs by a Japanese designer and he suggested that I try to reach a more elaborated finish than methacrylate and investigate it at his studio.
Having studied Geology at University, is there a relationship between your studies and your final products? Or does it help with your research into materials?
When I was studying I wanted to be a crystalo-chemist and to dedicate myself to new materials research. Back then it was quite a difficult issue in Europe, there were hardly any job vacancies. I am currently studying the appliance of new materials in jewellery, in a way, the empirical thinking remains but with more decorative aims.
You enjoy working with jewellery pieces, with fabrics, with clothing design, all of them are motivated by a creative thinking. When did you realise that you were hiding such creativity inside you and to professionally dedicate to it?
I think that since I can remember I have been doing handmade stuff. When I was a teenage I learnt how to sew just to make my own clothes, I lived in a tiny village and I hated going to the mass market which was the only accessible one. Later on, after moving to Madrid, I started a fairytales website, I used to spend the whole day writing children' stories. Basically, as soon I have free time, I need to add creative projects to my daily life.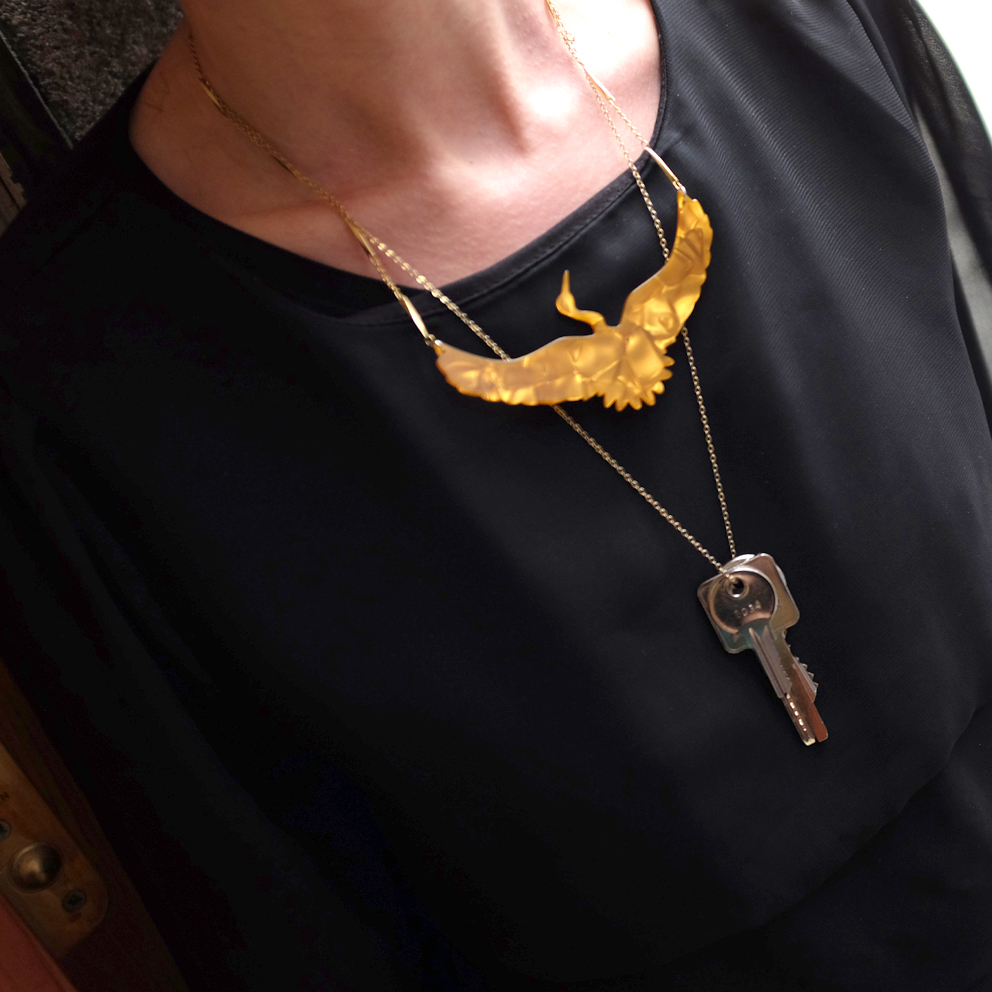 Could you imagine yourself six years ago?
It would sound like a joke, I was a programming teacher and media and web programmer. However, I always had the hope of being able to do what I am currently doing.
After five years, how was the beginning?
The beginning was the best part, having decided to professionally dedicate to it, I was willing to just enjoy my job. Any little recognition was very satisfying. It also had a negative side, inexperience made me too trusting in both projects and people that didn't deserve it. Remembering how I was taken advantage of is quite painful.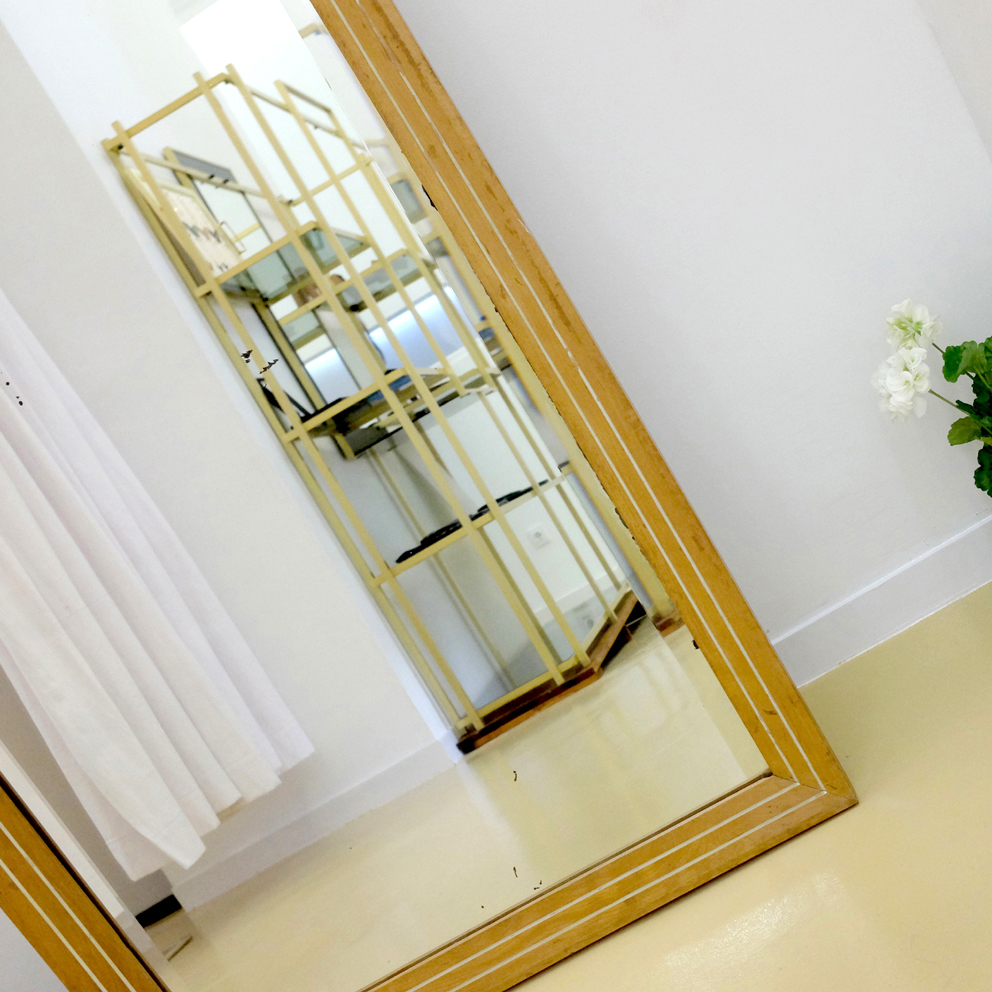 Have you ever been discouraged or on the contrary, have you always seen the positive aspect of it?
Yes, many times actually, but it didn't last long enough for me to even think about giving up.
How did the idea of making animal-shaped pendants come up?
I love old animal drawings, it is hard for me to think about other motives than these or geometric shapes.
Tell us about your creative process, from the first sketches to the finished product
It is not always the same, I usually get the idea for a new collection by being inspired by antique book illustration (my favourite one is Noah Webster's Curiosity Illustrated Dictionary). On other occasions I check taxonomy websites provided by some illustrators, where details are best appreciated.
After having compiled all the drawings I turn a little bit Frankenstein and I start separating body parts of the images, the head from one, the tail from another… then I draw the silhouettes.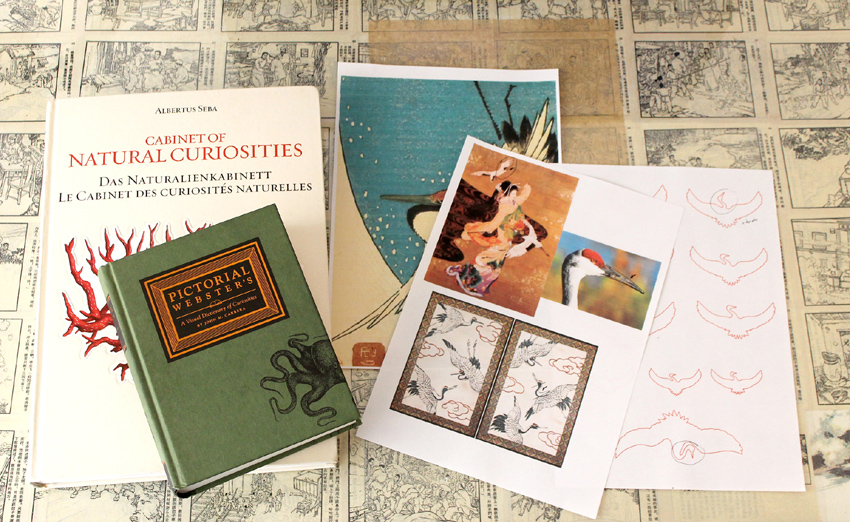 Why did you started with pendants instead of jewellery pieces?
Because pendants were the only piece I used to wear, it would have been hard for me to think about earrings or rings.
You use cellulose acetate and methacrylate, how did you learn about them?
Methacrylate was the first material I researched, it took me months of testing during my free time at my boyfriend's family's jewellery workshop. I tried to get both: an elaborated finish for this material and keeping the pieces together.
Cellulose acetate came later as the result of a collaborative work with an important fashion designer that eventually didn't carry out. I am impressed by the infinite amount of prints in this material.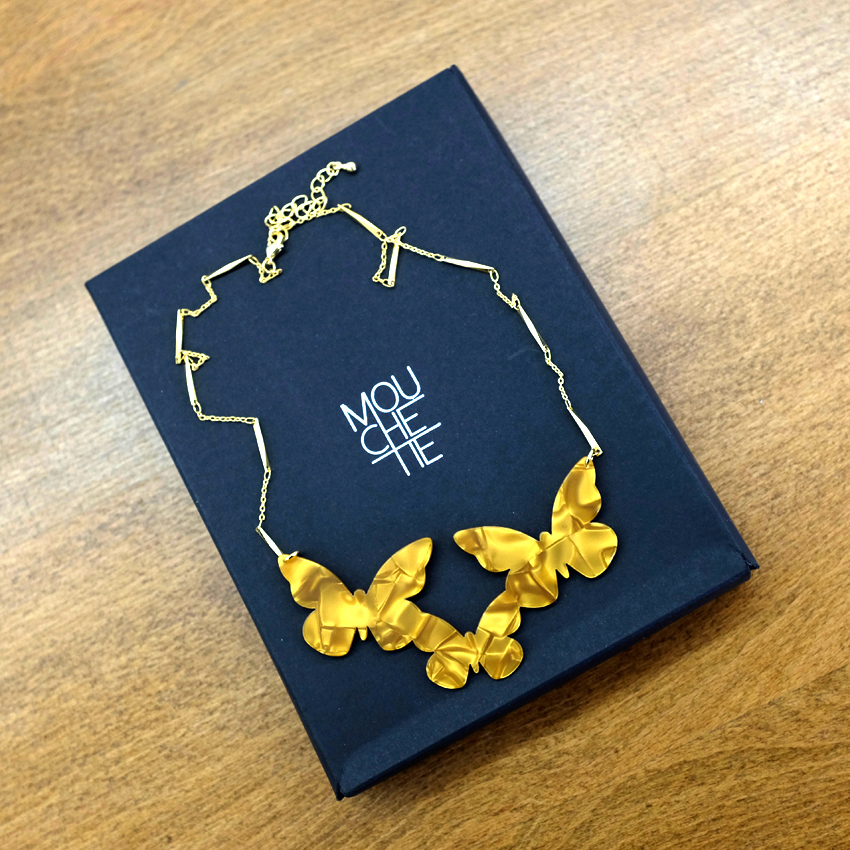 Do you get personally involved in the production of your designs in the workshop?
I take care of all the process. On one hand, it is hard for me to delegate to someone else and on the other one, getting my hands dirty is part of the creative process and, amazingly, I love it
Is each item unique? Or do you make a specific number of pieces for each set?
Due to the costs of production, it would be too complicated to make unique pieces. I tend to do limited edition or capsule collections.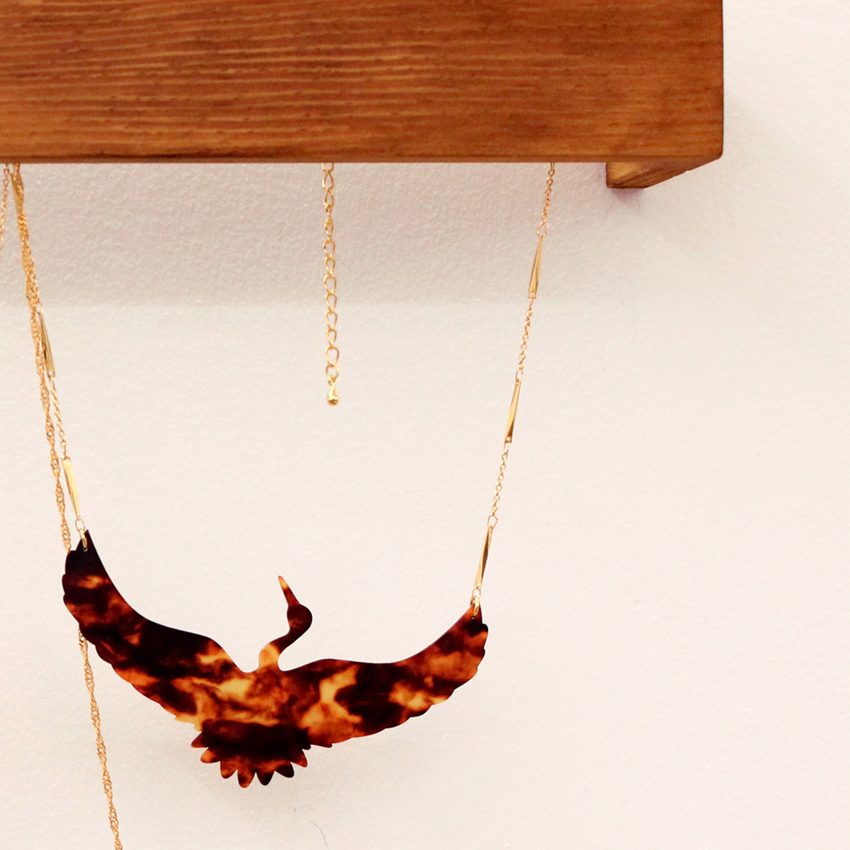 Is there an artist that you follow?
I like absorbing information from everywhere. However, I am not in thralled by an individual, I discover new idols everyday.
Is it possible to make a living from this?
It is possible to survive, and hopefully, in the near future, make a living from it.
How did you manage to get through the whole process, design, production, opening a shop and selling your stuff? Did you have any commercial help?
Hmmmm, it has been and will be due to hard work. I have asked myself many times: how can I manage everything?
Do you spend time publicising yourself?
Sadly I don't have enough time for any marketing or advertising, and, right now, I can't afford any additional work.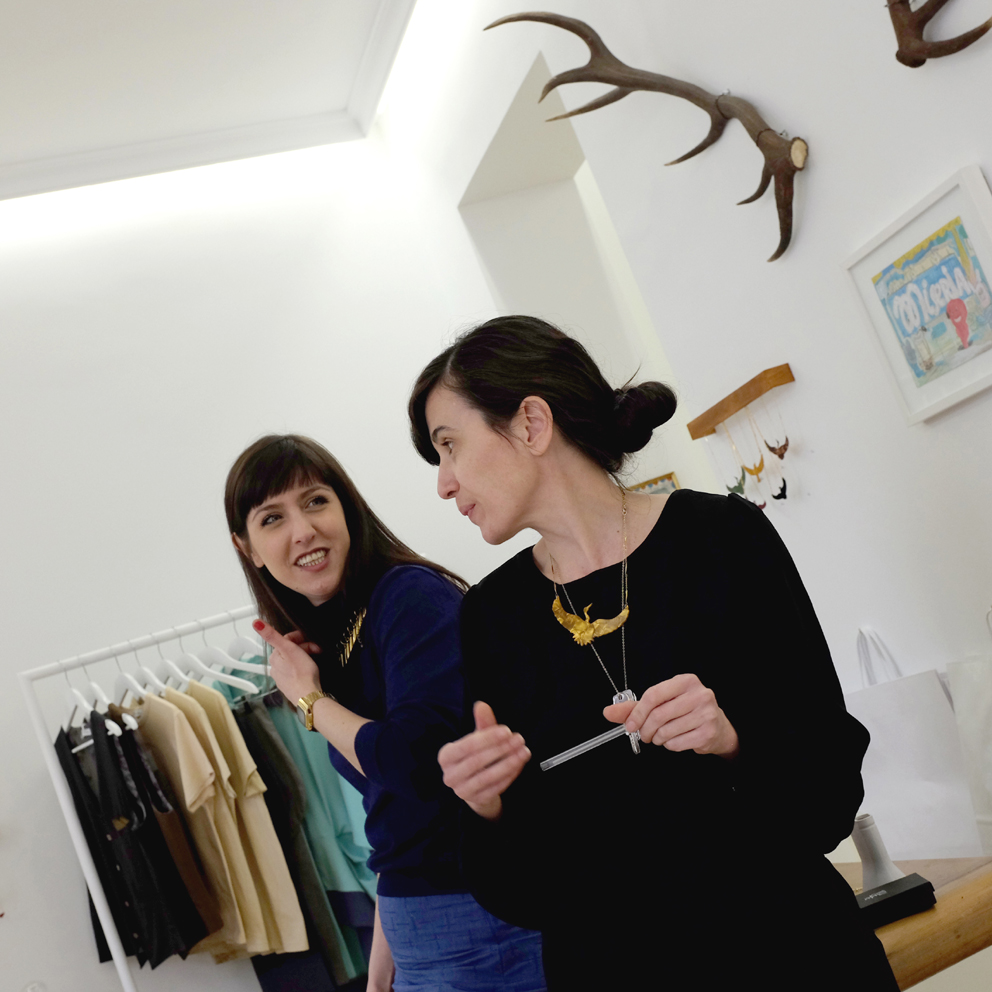 So far, we leave you with Olga and Belén, and you will have in several days the interview part #2…..